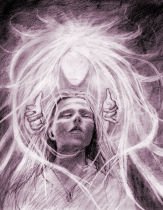 Leuke dames die proberen 'pillen' aan te schaffen.. uitsmijters die je fouilleren en vragen wat je allemaal op hebt, individuhen die tijdens het pissen speculeren welke chemische substanties allemaal actief zijn.. mede toeristen die op een toeristische brug in Praag zonder je verder te kennen in Engels vragen of je nog joints hebt.. amerikanen die gezellig heroïne willen roken, winkelbedienden (in een fotozaak) die je hash-brownies aanbieden..
Tsja, ik vind het allemaal best en ik kan er stiekem ook goed om lachen, maar wat zal het toch zijn.. is het alleen mijn uiterlijk, of helpt het dat ik me voel alsof ik zweef door een zonovergoten hemel.. ach, wat maakt het ook uit, ik ben blij!
De laatste 9 maanden heb ik voornamelijk gefeest en heb ik grote delen van de aarde mogen aanschouwen. Dit was zo extreem verslavend en heeft me onverwacht zo veranderd dat ik waarschijnlijk over een jaar, als mijn contract weer ten einde loopt, een ander deel van de aarde ga ontdekken.
En met mijn Amerikaanse guru Donnaness als perfect voorbeeld en gids, ontmoet boven op Angels Landing in Zion, kan het alleen nog maar beter worden. :-D