Daily Archives:
17 May 2005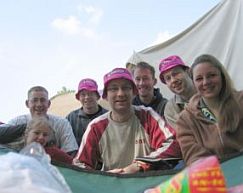 De grondige screening is uitgevoerd, en de fototjes staan inmiddels online!
Ook staat er nog een leuke pinkpop review online.

Pinkpop was weer een bijzonder geslaagd feest. Het meest heb ik genoten van rowwen heze, die tegen mijn verwachting in een bijzonder goeie sfeer wisten te creëren, the chemical brothers, met de beste show van heel pinkpop, within temptation en the prodigy, en de laatste (eindelijk zonnige) dag met o.a. thirteen senses, novastar en kaiser chiefs.
De afsluiting van pinkpop met faithless vond ik alleen erg tegenvallen. Zeker niet de beste act van het pinksterweekend, en het begin met twee podia naast elkaar die allebei bezig waren sloeg echt als een tang op een varken.
We staan trouwens nog met een fotootje op de pinkpop site! De andere foto's ga ik nog (na grondige screening) online zetten.