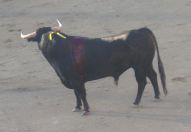 De meeste mensen zijn tegen en op zich is dit ook goed te begrijpen, maar ik wilde het toch graag zelf zien. Een gevecht tussen mens en dier, waarbij beide flinke risico's lopen. Als de oude Romeinen ervan kunnen genieten, en de Spanjaarden ook, dan moet het toch wat zijn. Maar helaas, het stierengevecht dat ik heb bijgewoond was niet bijster spectaculair. Erger nog, er waren 6 stieren die het tijdelijke voor het eeuwige inruilde, maar alleen op een manier die totaal niet spectaculair of vermakelijk was.
De stappen waren als volgt:
De stier loopt het veld in en wordt een beetje gedold door een man of 6.
Er komen twee gepantserde paarden de arena op, beide met een flinke speer.
De speer wordt in de rug van de stier geprikt, en de stier begint aardig te bloeden.
Er worden drie keer twee dolken in de rug van de stier geprikt door langs rennende mannetjes
De stier wordt uitgeput door de matador met een rode lap
De uitgeputte stier krijgt van de matador een dolk in zijn rug en is dood… Tenminste, als de dolk juist gestoken wordt is de stier dood. Ik alle gevallen die ik mocht getuigen ging dit fout met als resultaat een bloed kotsende stier en nog meer dolkprikken in zijn rug. Uiteindelijk ging de stier altijd wel dood.
De matador loopt een rondje door de arena en neemt zijn applaus in ontvangst
Tsja, het is een traditie. De stier heeft ongetwijfeld een goed leven gehad maar toch denk ik er het mijne van. Voor mij geen stierengevechten meer.