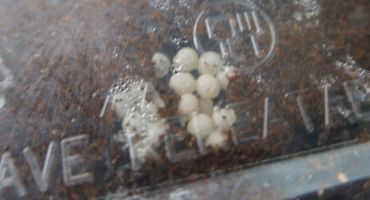 Just a couple of days ago Alex and Alan both made a nice cozy habitat for a couple of snails we found outside our home in the mini garden we have. Alex has lots of snails (around 10) and Alan only wanted one, and later added a few more so he had three. For two weeks the kids have been feeding the happy snail cucumber (their favorite), tomato, lettuce.
To avoid damaging the snails whenever that are picked up (as little as possible) the kids wash their hands, to clean any salt and dirt from their hands. After handling the snails they again clean their hands to avoid whatever may occur after touching a snail. They have even cleaned some of the snails a couple of times by holding them gently under slow running lukewarm water. Basically the snails seem to have their own private heaven.
The are happy and it shows. After two weeks both snail farm are already crowded with lots of little snail eggs!