Quite literally the name of the island means 'Strong wind'. We stayed in a little village called 'Costa Calma' (Quiet coast). In both cases the name perfectly fit the place. The coast was quite calm, with only some very small waves, and we spend 3 days on the very windy island. On the way there (by boat) we spotted a large group of dolphins! Around 25 dolphins that were jumping out of the water. Sadly we were going in opposite directions, so we quickly lost sight. After arriving we drove to our appartement and quickly jumped into the pool. Later we visited the beach. The next day we went to the zoo and at night we visited a sand dune, and our final day we spend with some impressive caves and a nice beach. After the beach we went back home by boat. A short but very pleasant break.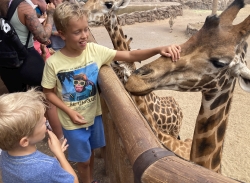 Oasis Wildlife Fuerteventura
A big park, a lot bigger that what I had expected. The restaurants were pretty good. A lot better that the typical hamburger places you normally have. There were three big shows to visit. A sea-lion show, a show with big birds, and a show with smaller birds and all kinds of smaller animals. The park looked very nice. There was a lot of greenery and lots of shadow. For some animals a part of their food was sold to the visitors, so Alex and Alan could feed the giraffes and the camels their fruit that we bought for 1.50 EUR per bag. A very nice experience. One camel did not want to miss his piece of apple, and left Alans little hand all licked and slimy. The kids were also invited by the caretaker of the elephants to feed them an union and some lettuce.
– First we visited the sea lion show. It was the standard show, like most other parks. The focus lay in our responsibility to take care of animals. They explained a lot about the species. This kind of show was nice for the kids, but they always leave me with a bad taste in my mouth. These animals are forced to do their show three times a day. They live much shorter lives that in the wild. They are forced to eat dead fish (which they normally would never eat). They are sick a lot, and
they live in a very confined space.
A human in a comparable situation would be forced to stay in her room all the time. Only be given raw fish to eat, be required to perform three times a day and would be kept alive with lots of medicines and drugs. To top it off, the story that was acted out during the show was like a love story between the trainer and the animal, well, that is just a bit too much.
– The small birds and reptiles show was very nice. There were parrots, lizards, turtles, snakes. Each with a little bit of information. The animals seemed quite content. Alex even got visited by a parrot on his shoulder.
– The big birds show had owls, hawks, eagels, and all kinds of birds of prey. It was a nice show, maybe a little chaotic, but this is also a bit of the charm of shows with live animals. Alex got selected as a volunteer. He had to run with a rope with some food, which some bird attacked (in this case even two birds attacked the food). Later a bird had to pass over his head, through his hands to get to the trainer.
Ajun Caves
The caves of Ajun were a very nice visit. It is a nice route to get to the caves, easy to do with kids. The caves at the end of the route are quite big. On the way back there was a colony of chipmunks asking for a bit of food. After the caves we spend some time at the beach, and found a natural aquarium in the rocks where we could swim with the fish. On our way over it was clear the island does not get a lot of rain. Everything looked so dry, and there was always a lot of wind.
We enjoyed our short stay in Fuerteventura, but there are lots of things we did not get a chance to see, so we will have to visit the island again sometime in the future.