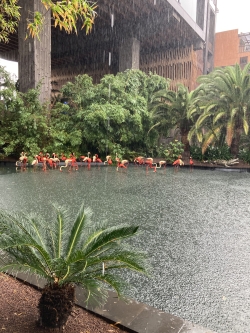 Our expectations were set quite high for Baobab. A 5 star hotel should be the best of the best. Everything is arranged to make the guests stay as nice as possible. This was also our expectation, but sadly we found a couple of issues that were not as we expected.
First there was the weather. It rained all the time, and there were warnings about a cyclone! That is not a very common thing here in Gran Canaria, and of course this is not the hotels fault. The rain caused the hotel to turn into a place where the floor was covered with lots of towels and buckets. There was water everywhere, and the African themed hotel was clearly not made for rainy weather. All the entertainment was cancelled. At night there was nothing to see or to do, even inside.
There were other inconveniences. We could not park near the hotel. The guy near the entrance of the hotel had no idea. We were offered a welcome cocktail during our check-in. Two without and two with alcohol, but the offer never materialized. We did not receive anything and we were not explained anything about our drinks. We were clueless.
An elevator did not work, but this was not indicated anywhere. There was a huge queue for the breakfast buffet, where the queue was standing in the rain. Our room had a broken coffee machine. The drinks machine at the breakfast buffet (primarily used for coffee) also had hot water and milk options, but whatever your selection a drop of coffee was added at the end. The buffet had a big tray of raw eggs (next to the slightly hidden cooked eggs). I took a raw egg by accident, no idea why anyone would want a raw egg?
Before our checkout the kids were playing ping pong. Nice! but it was not meant to be. A member of the animation team came, saw and conquered. The pingpong table had to go, because of the bad weather. The simple fact that the table was located at a sheltered dry place (and in use by our kids!) did not matter.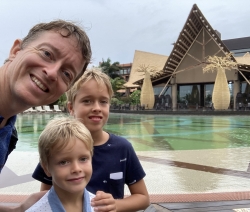 The hotel itself was stunning. The architecture was breathtaking. The pools where everywhere and were really very nice. The greenery looks very nice. There were elephants, zebras, crocodiles and flamencos (all fake) all over the gardens, and it helped with the nice African feeling. There was a lot of personal walking around, doing their jobs, and the personal was very helpful. The rooms very nice and very big. Except for a broken coffee machine, and a led strip that was hanging around everything was in order. We had a well stocked mini-bar and a really nice big bath. Good beds. The room was great. A very nice view and a nice balcony, but this was unusable because of the weather.