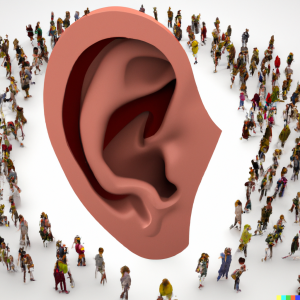 More and more time is spend online. Your social circles are formed online with people that feel similar to yourself. Where our social circles used to be centered around the town or city where you live, right now they can be everywhere. The same way that your physical friends can influence you, you can now also be influenced by the options and views of your online friends. Friends that you might have never met, but with whom you can spend lots of time.
Imagine a very near future where your online friends might all think siilar to you. A bit group of similarly minded people. All individuals that reinforce your thinking in a certain manner. Maybe 10 good friends, and maybe 20 more people who also think in a similar way. Maybe such a big group of people can influence you much more that you would think possible. Each of the persons you know has his or her own personality, which you get to know and trust.
Imagine all these friends are not as you would think. All of them are uniquely generated by an AI. In the blink of an eye there can be tens or hundreds of people who all think the same as you, and who will all try and navigate your thoughts to a desired outcome.
Maybe suddenly some of them will tell you about their experience with a new product, using the AI's for some kind of advertisement. Or worse, your 'friends' influence your political opinion. This has already happened, where less powerful AI was used to influence groups of people and to redirect their thoughts and actions to achieve a certain goal. Now, with AI getting more and more accessible, the big danger is an abuse so personal it will be very hard to resist. You will not even know it is taking place.
If can even be done with less effort. Simply train an AI on how you interact with your environment. Let it learn how your friends and contacts behave, and at the right moment simply inject some additional conversation. Almost impossible to trace.
Even if this technology is used for good, avoid radical opinions, avoid unwanted behaviour, in the end the person that controls the AI controls the emotions and thoughts of lots and lots of people. A very dangerous future we are entering.
Lets just ask an AI itself
Would it be possible for an AI to generate a number of different identities all aimed at trying to influence someone to get them to buy a certain product?
Yes, it is possible for an AI to generate multiple identities to influence someone to buy a certain product. This is known as astroturfing, which involves creating fake identities or groups to simulate grassroots support for a particular cause or product.

The number of identities needed would depend on various factors such as the size of the target audience, the level of influence required, and the resources available for the astroturfing campaign. It's difficult to provide a specific number without knowing more details about the specific situation.

However, it's worth noting that astroturfing is generally considered unethical and can damage the reputation of both the product and the company behind it. Therefore, it's important to approach marketing and advertising ethically and t

The stress! We can feel the tention at home, the excitement. All these emotions, and the match is still a few days away. For Alan it does not matter. His spirit is up! High up, his thoughts are of victory. He is focused on only one thing. Every night we train football. Every visit to the park we need to bring a football. Every visit to a park with an area with grass we need to take Alan's special football shoes. On wednesday is his first official match with his new team 'Formento' against another team!

He is sooooo excited, it look like it is a contagious feeling. We are all cheering for him of course. We all hope Alan's team will win, but if for some weird reason this is not the case, that for sure we will be able to find some outside reason. A bad field, the ball was too soft, foul play by the other team, maybe missing a star player?