Spam sucks so I made this dynamic post! Click to experience the spammers-revenge.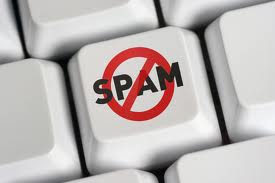 Revenge on spam. Over the last few years this blog has received more than a quarter million (!) spam comments. It is just a crazy situation. All these comments are filtered and thrown away automatically, but still it remains a never ending steam of data. Around 250 useless comments a day, where the author advertises digital currency, penis-enlargers, smartphones, zaras, vitamins and you name it. Always up to the brim with mistakes in language or style or just plain unreadable.
I once worked for a translation agency where they used spam as part as their business model. It was funny that the quality (or better the lack thereof) of the translation work could be directly related to the manners in which they secured their projects.
Of course the act of spamming comments all happens automatically. When a new post is published a big number of spam robots start trying to post comments. The comments are changed every time to make it more difficult to recognise when a comment is spam or not. The result is usually incomprehensible bad, but sometimes the spam gets through the layers of protection and then the goal is achieved. If 1 out of 13100 comments is actually published the objectives of the spammer are reached.
Now it is the time to fight back! I have created this F.U.-post with a ever changing content, and lots of links to itself. If will be difficult for a spam bot to see it is the same story all the time, and they will just keep on spamming, which eventually will cost them just a little bit more then usual. If this dynamic post cost the spammers 1.09 cents more my job is done.