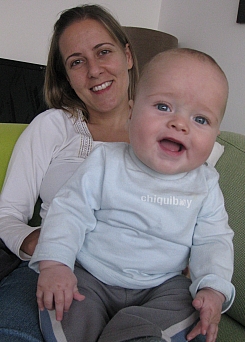 Alex has reached his first half year! Six months have flown by with the speed of light.
Alex has grown from a tiny small baby to a big baby actively working to control his limbs and the discover and understand his little world. A little man that started life with just a few drops of milk every few hours and is now drinking entire bottles of milk, eating cereals and enjoying his fruit mixes thoroughly. Alex is a happy kid who likes to laugh and who can enjoy himself with his toys. He sometimes (loudly) claims the attention when he feels bored.
As parents we also experienced an impressive change. We got more secure as a family and we really got to know Alex perfectly. We can sense when he's tired or when he's hungry or when he wants to play. We help him to fall asleep and we try and introduce him to new experiences on a regular basis.
Sadly, this milestone in Alex' life will be celebrated with a couple of injections. He will get three vaccinations today. Now so nice, but it's all part of growing up. The good news is that probably this afternoon we can start with 'real' food. Finally he will get some nice vegetables and just plain warm food. Exactly how food should be!