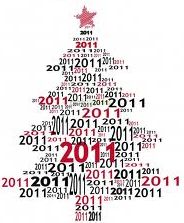 It's December already. It looks like every year passes a bit faster. For us the culmination of this year was of course our wedding in Madrid and the month we spend on holiday afterwards in Greece. Although there were a few flaws we were very happy with our wedding day. The contribution of the family was very nice and added a little Dutch flair to the party. Our Spanish guests were also impressed by the musical performance provided by my family.
In the beginning of 2010 we visited Lanzarote for a few days. A few months later we took a bigger vacation and we went to England and visited London. Afterwards we passed by Holland for a few days visiting the Hague, Amsterdam and of course Noordwijkerhout. It was a good year and we look back with satisfaction.
The crises we ended up in this year can be clearly noticed here in Spain. The unemployment rates are around 30% and all civil servants have had their salaries cut by around 10% this year. The economy clearly has taken a turn for the worse. Added to the crisis is the dependency Gran Canary has of the tourist sector. The there is a crisis people tend to spend less money, and the first place to save is the holiday budget.
On my job people are talking about layoffs, severance pay, reduction in hours (and in pay) and you name it. I still have a positive outlook on things and look with curiosity to the future.
2011 promises to be a year full of surprise and new twists in life. Together we enter the new year positively and wish everyone a very nice Christmas and a very good 2011!!!