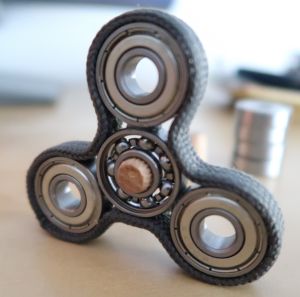 All the kids in Alex' school have a spinner, except for Alex, and that situation needed to be corrected. Buying a spinner would have been the easiest, but making our own spinning toy was much more fun.
The result was something that made us both very happy. The steps to make a spinner are easy. First you need four bearings, some glue and a piece of shoelace.
First you need to take one bearing and take of the metal coverings and clean it with some soap to remove all the grease. This make the bearing spin faster. Step two is gluing the other three bearings and glue the shoelace around the entire spinner to make it a bit stronger.
In the middle we put a piece of wood, so you can also spin the spinner on the table. The easiest way is spinning it in your hands, but Alex' hands are still a bit to small. The only issue is that after some use the glue does not always hold and the spinner needs some repairs.