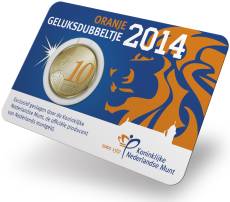 Luck can be used to make products more desirable. Good luck charms, horse shoes, four leave clovers, they have all found a good market with people seeking good fortune. The royal dutch min is also trying to get some of the action in the good luck market. After the 2012 good luck 10 cent coin issued especially for the football competition (and failing to be really lucky) there is now a new 2014 lucky 10 cents coin aimed at good luck throughout the year. The coins are sold for 4.95 euro so they should provide a healthy profit. The coins can be recognized by some orange paint over the number 10 and they are sold in the popular coin-card format. This discrete layer of paint also renders the coins legally worthless.
The amount of coins that will be painted and packaged will be determined later, probably based on the number of orders that will be placed. This is the first colored coin from 2014 and it looks like colored coins are getting more popular. In addition to the royal Dutch mint there are also various other companies offering colored coins, which is legal because the colored coins are no longer legal forms of tender. The colored coins painted by the royal Dutch mint until now are:
Year
Coin
Quantity
Introduction
price
KNM
2014
Lucky 10 cents
? coins
Nominal value 10 cent *
€ 4,95
info
2013
200 year kingdom combinationset
1500 sets
3 two euro coins per set
1 colored two euro coin
Nominal value 2 euro per coin *
€ 75,00
info
2013
Vrede van Utrecht color set
1000 sets
6 silver coins per set
Nominal value 5 euro per coin *
€ 275,00
info
2012
Lucky 10 cents
15.000 coins
Nominal value 10 cent *
€ 4,95
info
2012
Tulpen vijfje color set
750 sets
4 silver coins per set
Nominal value 5 euro per coin *
€ 200,00
info
* Nominal value is the value of the coin before it is painted. After painting the coin has no legal value, only a collector value.