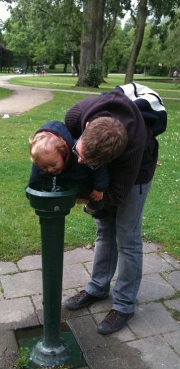 After just one week in Holland the changes we notice in little Alex are quite big.
He has adopted to a Dutch timetable very fast. He goes to bed much earlier, he wakes up more early and his daily routine has changed a lot. Normally Alex would start to show signs of being tired around 10 or 11 o clock at night. but now he falls profoundly asleep at 8.
It´s not really clear what is causing the change. Maybe its the Dutch light, or the climate of because we are are doing more activities, or maybe it's just because Alex sees a lot of people around him all with different timetables.