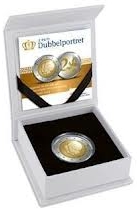 The departure of queen Beatrix and the arrival of our new king Willem Alexander is of course very big news and just like a lot of other commercial parties the royal Dutch mint is trying to get a nice slice of the cake. They are producing aankondigingspenningen (announcement coins), abdication sets, special 2 euro coins and a lot more merchandise. Right now all products feature the portrait of our queen, but after the 30th of April there will surely be a big number of new coins which are minted with the portrait of the new king Willem Alexander.
The new 2 euro with both portraits of Beatrix and Willem-Alexander will be mixed with the normal 2 euros and there will be 20 million of such coins, so for sure you will encounter a few of them. For collectors the KNM has a different approach. Once again the created an extra nice coin but in a very limited edition. So limited that they were sold out in days. It seems like a standard approach to quickly sell a few coins which then become very rare and expensive.
The last few emissions by the KNM in 2013:
2 euro dubbelportret – sold out in 3 days
2 euro verdrag van rome in coincard – sold out in 15 days
muntrol 2 euro dubbelportret – sold out in 1 day
BU set Nederland 2013 – sold out in 11 days
Once sold out the price of the coins usually quickly doubles. It almost obligates collectors to review the KNM facebook page and website to keep up to date with new releases. I am not sure what exactly is the advantage for the KNM, but coin dealers must be very happy.