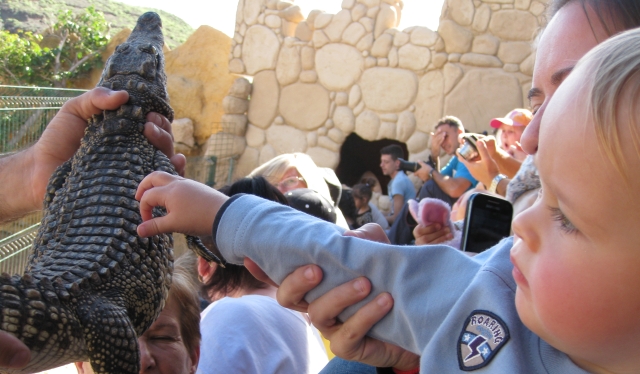 Since the end of the world did not occur Alex got in the mood to take a little more risks. He wanted to visit some crocodiles. Luckily for his there is a big park with crocodiles (cocodrilo park) right here on Gran Canaria near Agüimes and they claim there are more than 300 crocodiles walking around the park. During our visit we could even touch a few little crocodiles and Alex liked this a lot. In the park there were a lot more animals like chickens, rabbits, parrots, snakes, dear, monkeys and more and Alex at times didn't know where to look. Some of the animals like the chickens and the rabbits seemed to be in high risk to end up as crocodile food but this is maybe just my incorrect assumption.
The ark itself was very charming. It was almost the opposite to a normal commercial park. The tickets to get in were cheap. The food was priced normally and the park was big enough to spend a couple of hours. The park is closed on Saturdays and open the rest of the week from 10:00 till 17:00. At 1 they feed the crocodiles which is like a show and afterwards there is a clown performance.
Surprisingly, the personal was not commercially trained, but they were 'real'. The boy that was clearly there to take our picture with some parrots did not even bother to make a picture. He started telling us about his parrots and that sometimes one of them bites. One female parrot could be held by men, but did not like to be held by women. We were allowed to pet the parrots and continued our stroll through the park.
An older Canarian that worked on the park took some time to tell us about his work and his relation with one of the apes. In his time working at the park he had developed a relation with one of the apes,Judith, and now he trusted the ape and the ape trusted him. I have never seen a person talk with so much emotion about his relation with and ape and even enter in a discussion with said ape. This was very nice to see.
We liked the park a lot and will return for sure.