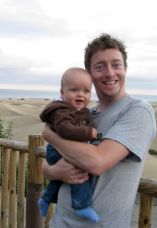 Gran Canaria is a small island of about 40 kilometers. The capital of the island is Las Palmas and, surprisingly for such a small island, this is one of the 10 biggest cities in Spain. The strange thing about Gran Canaria is that the island is divided in two distinct parts, north and south. Las Palmas is in the north of the island and here it is often a little clouded. The south is the domain of the tourists. Here you will find lots of hotels and the best beaches. The area has the most sunshine of the island. The weird thing is that the inhabitants of the island actually refer to 'the south' when they talk about the tourist areas.
The passed Easter weekend we enjoyed a holiday in the south. Together with some friends from Madrid who were visiting the island we rented an apartment. We were three couples, three babies and one pregnant girl so basically what we did was bath in the sun (Alex beneath a parasol) and stay near the apartment because it is difficult to make plans with one baby.. but making plans with three babies is an impossible task.
Alex enjoyed his holiday a lot and even applying factor 50+ sunscreen did not seem to bother him. He slept very well and got used to being around other babies. At first he was a bit scared of all those strange new people around but he adapted quickly to his new surroundings and to the new people picking him up. Alex even had a surprise for us, after the holidays he is suddenly talking a lot more! He keeps muttering and a word we hear a lot is 'tit'. He's just like his father.