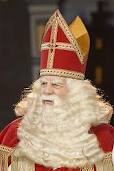 Finally, the perfect evening has arrived. It is our first traditional Dutch Sinterklaas evening that we celebrate with Alex. Although Alex does not yet seem te realise what is going on. This way it's a good general rehearsal where we can figure out what areas we are lacking in order to improve in the coming years.
The Sint has already been notified that Alex has been a very good boy this year. The presents have been flown in from Holland, and the typical music (including karaoke versions) is ready. The carrot Alex has left for the horse in his shoe was eaten so all looks well. The only thing we are missing is a cloth bag and the candies to throw around, but for this I will try and find some alternative.
Tonight we sing together and then we open the presents. The little one does not yet show any interest in toys, but maybe he will enjoy the unwrapping.