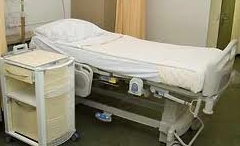 The past weekend was pretty stressful. Ana has been suffering from a strong pain in her back for a while. The pain seemed to be caused by stones in her bile. After her last medical examination she was immediately hospitalized and connected to a bag of antibiotics. She even gets her food from an IV.
Last week I was a full time father. With a little baby and my wife in the hospital I had my hands full. Ana is placed in the department for infectious diseases, so little Alex cannot come by and visit. This makes it very hard for me to pay Ana a visit, resulting in quite a bad situation.
We expect that Monday and will be send home. Probably with some special diet where she will need to avoid everything containing fat. Afterwards she will need to make an appointment for an operation where they will probably remove the entire organ. Tomorrow we hope to know more about Ana's treatment.