Once again we were offered a look into our future. In one month Pek will be born and he will stop being called Pek, because at that time he deserves his new final name.
Ana will leave for Madrid next week where in a month, the 24th of August, the birth of Pek will take place. He will be born during a vasectomy in the Alcala hospital. The same city as where we got married.
Pek is kicking quite a lot every now and then. Also he gets very happy and excited after Ana has something to eat. This time we had a test where they made a graph of Pek's movements and his heartbeat. Everything started out really relaxed, but when Ana was given a lollypop the action started.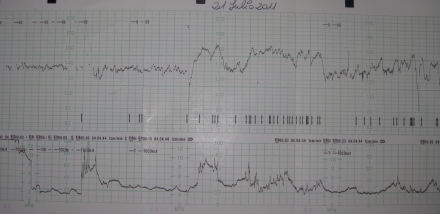 The top line in the graph are the heartbeat or the movement of Pek. The vertical stripes are an indication of movement. Ana had a little button which she needed to press when she noted movement. Every press on the button resulted in a little vertical stripe. The bottom line is movement by Ana. This bottom line indicated that Ana had two mini contractions during the test.
The little one weighs 2046 grams and it is a small baby, but that was to be expected with such a small mother.