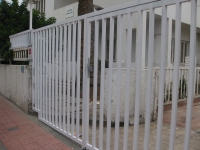 The bamboo solution was reasonably successful in returning peace and quit to our home, but it was not the solution we wanted.
Prior to this solution a number of things had occurred. Discussions with the homeless person, the police would not move a finger, contacting the land lord, a letter to IKEA, investigating Ingvar, you name it. Sadly nothing proved sufficient in addressing the fundamental issues we were facing.

Apparently one of our actions did have an effect. And what an effect it was! This morning I was confronted with the solution to all our problems. A huge fence was blocking all access to the property. A big 2 meter high fence with impressive thick steel bars. Now nobody will be able to enter or exit the property. Apparently the ball started to roll and someone took his responsibility.
Solved again.