Next weekend we will be traveling again, and this time were visiting the island La Gomera for a weekend. La Gomera is one of the Canary Islands that was still missing on my list.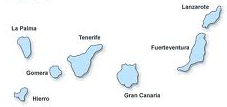 The island is difficult to reach. First we need to take the ferry to Tenerife, and from Tenerife continue to La Gomera in a different Ferry. We were lucky because the the schedules connect pretty well, and we get a 50% discount on the fare for being Canarian citizens.
La Gomera promises to be a nice place to visit. The island offers a lot of nature, the Garajonay National Park. Also there is a typical rock face, Los Organos, that resembles a kind of organ.
In La Gomera that have a lot of local delicacies. Local cheeses, roasted pig or goat, honey from palm trees and this is the place where almogrote was invented!
It is the only place in the world where the inhabitants were forced to develop a unique language. A whistle-ing language called
Silbo Gomero (Gomerian whistle). The local population communicated with whistles covering great distances. It proved the easiest way to quickly pass information over the ravines. Of course I'm planing to do some whistling myself. If I make a mistake there is still no problem. The receiver of any error will surely be far far away at the other end of a ravine.