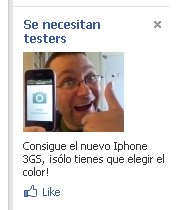 Geregeld neem ik een kijkje in mijn facebook pagina om te zien of er nog gebeurtenissen zijn, of om een beetje met mijn boerderij te spelen.
Laatst kwam ik echter een Spaanse reclame tegen, waarbij gezocht werd naar testers van een telefoon. Ik zag de persoon op de foto en ik kon het bijna niet geloven. Het is Ammer, of in ieder geval een redelijk goede look-alike.
Is Ammer aan het bijbeunen in de Spaanse telefoon-test markt???