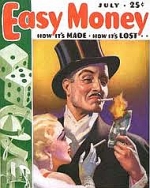 Snel verdient. In ruil voor een regeltje reclame bij een oude post op dit blog heb ik flink wat dollars verdient. Jammer alleen dat de wisselkoers niet echt gunstig is.
Ik ontving een mailtje met het verzoek of ik reclame op mijn site wilde plaatsen. In eerste instantie had ik daar geen interesse in, want ik irriteer mij mateloos aan al die reclame overal. Twee maanden later werd mij nogmaals gevraagd of ik interesse had en besloot ik toch maar eens navraag te doen over de voorwaarden. Hieruit bleek dat ze me een grote hoeveelheid dollars beloofde als ik in één van mijn 700+ oude berichtjes een regel zou toevoegen met een linkje. De kans dat iemand deze tekst tegenkomt is erg klein, dus besloot ik dat het geen kwaad zou kunnen.
De regel reclame mocht ik zelf aanpassen zodat hij goed in de tekst paste. Alleen de link moest een specifieke bewoording hebben. Zaak is nu om de tekst een jaar te laten staan. Het geld werd direct op mijn rekening bijgeschreven (en zal ik overmaken naar de rekening van Pek). Erg netjes.