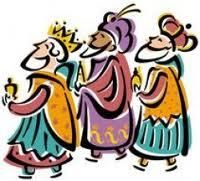 Vandaag vieren we de aankomst van de 3 koningen (Melchor, Gaspar en Baltasar). Dit is het traditionele grote feest in Spanje, dat beetje bij beetje wordt vervangen door Kerstmis. Vergelijkbaar met Sinterklaas in Nederland die ook beetje bij beetje wordt vervangen door Kerstmis.
Drie kongingen vieren we dit jaar op een aparte manier. Iedereen koopt een kadootje en gooit deze op een grote hoop met kados. Hierna wordt geloot wie het eerste kado mag pakken. Deze kiest een willekeurig kado. Hierna wordt er weer geloot voor wie het volgende kado mag kiezen. Deze persoon mag dan kiezen uit een kado uit de hoop, of het kado van de vorige persoon. In dit laatste geval pakt hij dus het kado af van de vorige gelukkig, en mag deze een nieuw kado uitpakken.
Straks loop ik richting huis langs een 'Chino' om aldaar mijn kado te kopen, en dan kijken of het lot mij vanavond goed gezind is.