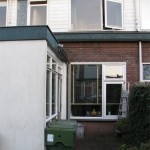 Ik heb gewonnen! Ik was de beste inbreker in een dubieuze wedstrijd uitgeschreven door de Politie Hollands Midden. Doel van de wedstrijd was het bekijken van een foto en je verplaatsen in de huid van een inbreker en verzinnen op welke manieren er in te breken valt.
Ik wist maar liefst 15 manieren te bedenken en dit bleek voldoende om de prijs te winnen!
Dit waren mijn inbraak mogelijkheden:
Pak de trap om op het lage gebouwtje te klimmen. Loop over de gootsteen naar het open raam, en je bent binnen.
Klim op de kliko, hierna op het lage gebouwtje, en loop naar het open raam.
Probeer de keukendeur. Meestal ligt er wel ergens een sleutel onder de mat, onder een emmer, of verborgen in een randje. Hiermee kan je ook naar binnen.
Sla een ruitje van de keuken met een steen uit de tuin, om zodoende van binnenuit de keukendeur te openen.
Sla een ruitje van de keuken met de emmer, om zodoende van binnenuit de keukendeur te openen.
Gebruik de trap om het kantelraampje te openen, en klim hierdoor naar binnen
Indien de gootsteen onstabiel is, klim op het gebouwtje, en forceer het raam van de badkamer.
Klim via de regenpijp naar het open raam.
Indien de sleutel in de keukendeur zit, boor een gaatje en draai de sleutel om.
Breek het slot van de keukendeur open. (via schroevendraaier of de inbreker manier: "Een slot als dit is gemakkelijk open te breken. Even de platen er afhalen, moersleutel erop en klaar.")
Het raam achter de trap is wellicht niet beveiligd, en is met een schroevendraaier te openen.
Ook de keukendeur is wellicht niet extra beveiligd. Ook deze openen we met een schroevendraaier.
Nadat we op het lage gebouwtje geklimmen zijn (via trap of kliko) openen we het raam van de badkamer met een schroevendraaier
Het is een donder hoekje. We kunnen ook met een spijker en hamer de pinnen uit de scharnieren van de deur slaan. Hierna kan de keukendeur zo van zijn plek.
De meest omslachtige manier, klim op het lage gebouwtje, en klim via de regenpijp door naar het dak. Verwijder een aantal dakpannen, en wellicht lukt het toegang te verkrijgen tot de zolder. Dit kan alleen als geen buren in de buurt zijn.
Blijkbaar ben ik een creative inbreker (wellicht heb ik de verkeerde carrière gekozen). De prijs die ik gewonnen heb ik een DNA-kit. Ik ben benieuwd wat het is, en wellicht tref je binnenkort mijn DNA aan op allerlei objecten!