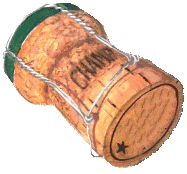 Traditionally, you need to make some good resolutions for the new year. For the new year I'll try and repeat the pleasure and happiness that I have experienced in 2004 and to match or improve upon it in 2005. Probably I put the bar pretty high, but why not. My other good intention is to read the book the little prince, after which I'll have a discussion about the book with my sister Kathy, Diana & friends. Reading the book should not be so difficult.
The new year will start with a very nice party in antwerp! I will miss the party at Ammer's, where they will light a fortune of fireworks, but I'll try and repair my absence during the next blow-cart of boarding event. In the new year I hope to visit Zuzana and Fransisca (plannen for next week), visit Ana in Madrid, enjoy a trip to Chicago (maybe) and visit the Czech republic for a nice week.
The only challenge that remains to me is entering the new year without a job. Still, there isn't a cell in my body that doubts that a great new year is awaiting me.
I wist everyone an extremely good 2005!