Found
When they arrived home after their long walk Miranda went straight to bed. She was tired from all the walking. Thomas waited a few minutes until Miranda was sound asleep and then quickly left the house in search of his friend Valentine. He ran and he ran, until he arrived at the house where he had seen the familiar curly tail.
He knocked on the door but nobody answered. Thomas knocked again and again until suddenly Valentine jumped out of the window, right in the arms of Thomas. In a firm embrace they were spinning circles of happiness. They were so happy to be together again that nothing would break them apart ever again.
Thomas, out of breath because of all the emotions he was experiencing, told Valentine that in the neighbouring villages the people had started the Slaughter and that Valentine was in danger.
Valentine let him finish his sentence and said, 'Don't worry, I already know and I'm being very careful, but I have something more important to tell you', and he called Flor. Flor walked to the door cautiously. Next to her side stood a small pretty piglet of only a few days. 'This is my wife Flor and our little son Alex', explained Valentine. Thomas got tears in his eyes and embraced the entire family.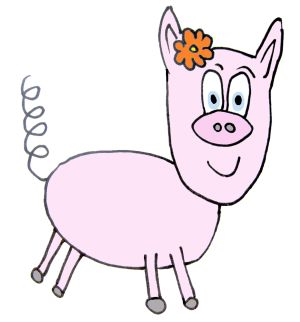 Thomas, with his mind clearer then ever, knew that Valentine and his family could not stay in the house because they were surrounded by hunters in search of pigs. Thomas suggested that they all go to his farm, where he would protect them and where he could give them everything they would need. Valentine was sorry to leave his little home on the edge of the forest but he knew he and his family would be safer and happier on Thomas' farm. Finally they all left in the middle of the night towards Thomas' farm.
Thomas added some extra space to the old shed and gathered a big bag on acorns. Valentine, Flor and the little piglet Alex were very happy.
Miranda did not know that the pigs were on the farm and she should never find out, for Valentine and his family to remain safe. Valentine, Flor and the piglet Alex promised to stay indoors and only go outside during the night so that Miranda would never see them.
Their plan worked perfectly for a few months, until one night Miranda had problems sleeping and she went outside to have a little walk across the farm grounds.
When walking across the farm she thought she saw some pigs far away. She was astonished. Was it her imagination? Maybe she had gotten so excited about having her own pigs and eating them little by little that now she could not believe her own eyes?